Happy Thursday Morning Coffee, darlings! Aw man, I have read some seriously good books lately. Which shouldn't be all that unusual, but it seems like the purchase of good books for my kindle goes in streaks. I'll be plodding along reading one "meh" after another to the point where I actually get sick of reading (OMG, me? Sick of reading? That's sacrilege!) and then the right sort of reviews hit my inbox and suddenly I have all this stuff on my kindle that I can't STOP reading.
The family is begging for some attention, maybe dinner, or clean clothes, and all I can say is, "Yeah, I'll get to it," as I touch my kindle screen to turn another page.
I am probably really annoying to live with at this point.
Should I have to (gulp) put my kindle down and go to work, I can do it, but I tend to be distracted in between my breaks - you know, when I'm supposed to be working. And then ON those breaks, I'm walking around with my kindle in front of my face like the commercial I just saw, detailing how fun the kindle is at the beach.
So... sheesh, you must be asking, what the heck have you been reading?
Okaaaaay, then... one little reminder or warning, or whatever. I'm a dark girl and I like dark fiction. Which translates to this: I can't recommend these books to my normal friends and family, but I will recommend them to you, darlings.
First off... let's talk Megan Hart, the author of what have been perhaps the lightest, and therefore most mainstream fiction I've read lately. And when I say "light" and "mainstream" I mean, um, well... there wasn't any kidnapping or rape, but still lots of fun deviance. What I love about Megan Hart's writing is that her narrators tend to feel like average, every day normal people, who find themselves involved in emotional entanglements they never expected.
For instance:
The Space Between Us
is the story of a single woman who lets herself be drawn into another woman's marriage as a "Third" - partner, or sexual partner. It sounds fun, doesn't it? Yeah... it is, actually (wink). Until it's not. And then, honestly? It's
really
not.
I tweeted to Megan that I really appreciated how much of the emotional landscape she nailed in The Space Between Us, and asked her what she recommended next. She recommended
Tempted
, the story of a married couple James and Anne, who bring the husband's oldest and dearest best friend Alex Kennedy into their bed. Mmmmm. The entire story is told from Anne's point of view, and that Alex, he is hot, hot, hot. And I mean smokin'. The story is hot, the sex is even hotter, and the ending is bittersweet. What more could I want?
Well... I had to read several of Tempted's scenes from Alex's point of view in a fifty page story called
Everything Changes
, that's what. The dynamic between these two men, who clearly love each other, but also have some very clear sexual boundaries that will not be crossed, is fascinating. I fell a little bit more in love with Alex Kennedy.
Finally, I read
Naked
. Naked is told from the point of view of Olivia, who falls in love with Alex Kennedy against the advice of her best friend, a gay man who's had an affair with Alex. A gay man whom Olivia almost married, back in college. This book was awesomely filled with tension because I felt like I already knew Alex, and I sort of agreed with the guy who warned her off. Alex doesn't seem like a good bet for a long-term, monogamous relationship. Because of how well I felt I knew Alex, Naked was a book full of almost unbearable tension for me. Right. To. The. Very. Last. Page. It was really stressful coming to care for Olivia while also never being able to feel like she should trust Alex. And when Alex brings her to meet Anne and Jamie - OMG.
Okay. So there are the Megan Hart books.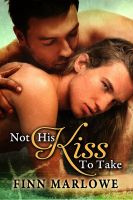 The other, lighter, favorite I read recently is
Not His Kiss to Take
by Finn Marlowe. This was a somewhat unusual book for me, not because of the older man/younger man pairing, but because it had medical kink, and it's sort of in the genre of "gay for you" - which usually I think is pretty lame. The kink isn't even what I loved about it. What I loved was Jamie's snappy attitude, how stubborn he was, and how he allowed Dr. Evan to manipulate him, knowing exactly how he was being manipulated. The other really great thing about this book is that it made me laugh out loud, frequently. I believe it was told in a traditional romance style - meaning from the point of views of each man in the romantic pairing, and it ended on a happily ever after premise. An erotic, sweet, happy and fun read. Loved it. (Purchased from Smashwords - actually, I think it was free - and emailed to my kindle, FYI. I couldn't find it on Amazon).
All right. Now we'll get to the intense stuff.
Somehow I was lured into the darkness on Goodreads to stumble upon a book called
Schadenfreude
by XIX. This is not an ebook. It is a rough draft posted on a website. I sat in front of my computer for a WHOLE DAY consuming it, almost non-stop. I've linked to the book's page on Goodreads, because I think anyone considering reading this should read the reviews. It's a rough draft. There are unusually placed commas. It is an awful story.
Schadenfreude is such an awful story that once I had read it online, I immediately copied it into a Word document that I emailed, warts and all, to my kindle - so that I could read it again, much more slowly. Because it is an ugly story, and I suspect it will be with me forever. And it might be the most beautiful story that I will read this year. I almost hate myself for loving it so much. I mean... what does that say about me? Ouch. [April 2013 note: A shiny new version of Schadenfreude should be available for purchase soon, so feel free to wait. But do NOT forget that this is on your TBR list - although if you DO forget, I will make sure to remind you.


Finally... I met Shuki. The book is called
Not A Man,
and it's by M.A. McRae, and it's an absolute steal, 558 pages for the crazy price of $2.99. I don't even know where to start. I guess I'll start by saying it's basically a kidnap/non-con/slave boy sort of thing... or maybe I'll just copy here a brief description form Amazon:
From boy of the slums to Oxford Graduate, this is the story of Shuki Bokiah - modern day eunuch.
What else is there to say about Shuki? Well... I fell in love with him. It's an epic tale, long and meandering, and spanning several years of Shuki's life... but amazingly enough, it is never, ever dull. I fell into Shuki's world for more than a day and I've already purchased the second book of the series, The King's Favourite, though I have not started reading it quite yet. M.A.'s website indicates there will be a book three coming out in April, so I figure I have a little time. The trouble with Shuki is that I was pretty useless for anything except reading until I finished it. So I suppose I should do some laundry, clean the bathrooms, and vacuum the rugs before I visit Shuki again.
Oooh, and I also got to read a draft of JC Andrijeski's The Morph. Go me! New favorites, old favorites... I've just been drowning in great books!
And now... back to work on Three in the Dungeon. Because you don't think I'm completely neglecting my own stuff (wink).
Have a great weekend, darlings! If you feel like commenting, I'd love to know what you've read lately that's knocked your socks off.
PS. Have to add one more: Waiting in the Throes by Maddox Grey. Free online fiction. It's really long. And it's a WIP, which means, well, umm, you can't read to the very end right now. But you can read 660 pages of a particularly horrifying, but beautifully written, abduction story. Yikes! But let me warn you... it's brutal, and if you don't like to wait for an ending, this one might interfere with your sleep. There is a gruesome scene involving pliers in chapter one - I was almost unable to continue. The good news is that it doesn't really get worse than that scene...