Good morning, Darlings! C'mon, c'mon, pour a cuppa joe and have a seat so I can catch ya'll up on all the latest news. I KNOW, I missed coffee last week, and I hate that, but... (shrug) well, what do you do? Can't be helped sometimes.
This is what happened... the Friday before last, Kyle showed up at my husband's office, and we realized that he was basically homeless and was going to freeze to death over the winter if we didn't do something to help. So I spent most of a full day figuring out some kind of acceptable housing situation for the poor guy, but we finally seem to have that nailed down... only to have him turn up his nose at almost every single food offering.
Sigh. Kyle is kind of picky.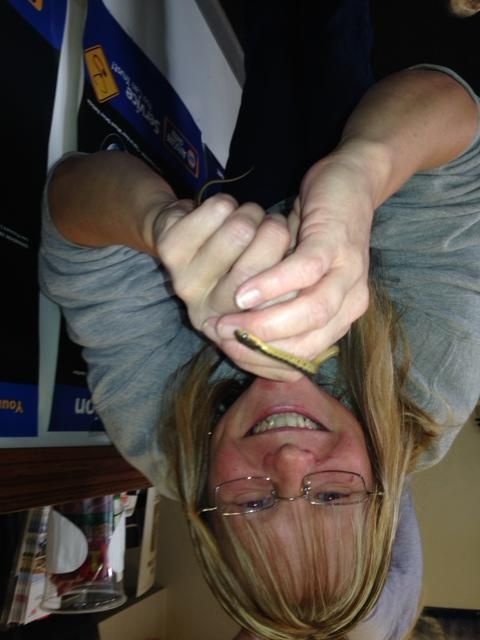 Meet the newest member of our household, Kyle.
(We arbitrarily decided on "him" - truth is, no one in this house knows how to sex a snake)... [
Man, THAT sounded much naughtier than I intended it to
].
Kyle slithered across the floor of my husband's office about three weeks after he should have been hibernating (brumating in snake terms). He's TINY. See picture at right of my grinning face, holding Kyle in my hands to see how tiny.
I think it's important to note here that I NEVER ADVOCATE taking an animal out of the wild and making it a pet. I am perfectly fine with capturing wild creatures like frogs, toads, snakes, grasshoppers, etc. to study and enjoy them for a day, but generally I think it's always best to release them after a few hours. For the most part, wild animals take care of themselves well and should be released to do so. But the thing is... Kyle is a baby, and should have been hibernating when my husband found him. So. If we released him and it was too cold, he could freeze to death before finding a safe place to hibernate.
Kyle seems to like his new little home. He especially seems to love the log, but he actually spends a fair amount of time coiled in his castle with his head resting on the doorstep. Can you say CUTE? Seriously. Do you see him in the first picture below? The castle is in the background, and Kyle is sticking his head out of the "arm" of the log, sort of just to the right of the middle of the picture.
He often winds around the turrets of the castle like a little tiny dragon protecting his territory, and it is ADORABLE. He seems like an especially handsome snake, if you ask me.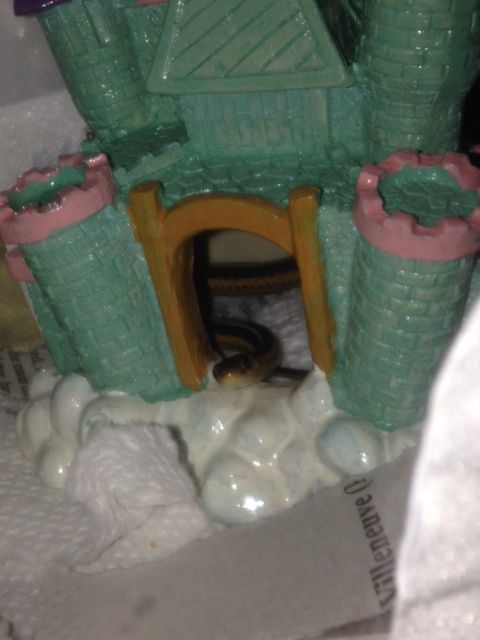 So. Let me tell you about Kyle. He's a Butler's garter snake, basically brown and tan. He has the most charming little face, and seems to have something of a curious nature. It has, of course, taken some time for him to adjust here, and at the moment, his eating schedule is only about once every five days. As I believe he is a baby garter snake, I'd like to see him eating every two or three days, but I think it takes some time for snakes to feel safe enough to eat - after all, full bellies make them slow and lethargic - kind of how the rest of us will be after Thanksgiving dinner today.
Butler's garter snakes don't eat anything easy like mealworms or crickets. They can't eat easily attainable in the winter compost worms (red worms or red wrigglers
Eisenia
Fetida
or
Eisenia
Foetida) -
which is very important to note, because a) they probably won't eat this kind of worm, or b) if they do, they will probably puke until they die. Since the purpose of keeping Kyle was for him NOT to die, I ended up doing a lot of research about worms. Especially after the bait shop sold me compost worms, assuring me that Kyle would love them. Sigh.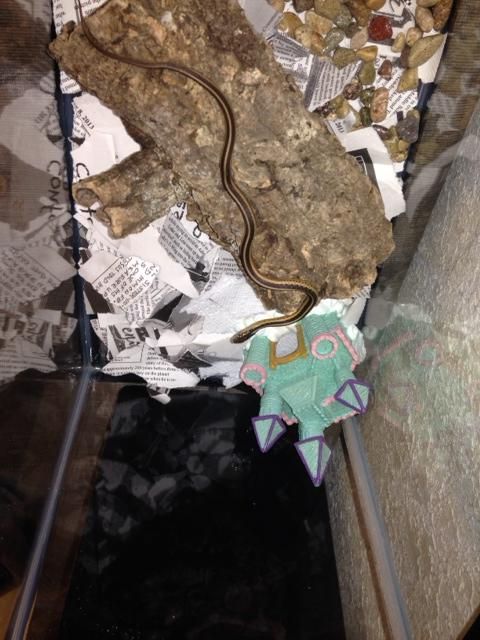 I found a worm-identity flow chart, bought a carton labeled "worms" at the gas station, and called Walt's Crawlers, to ask them what kind of worms, exactly, they considered "worms." (Euro worms, which are the okay kind). The thing is - I really want to get Kyle eating mice, which are more nutritionally complete than worms, and more filling, and will make him grow faster... but worms are like candy to garter snakes, and we have to start somewhere, right?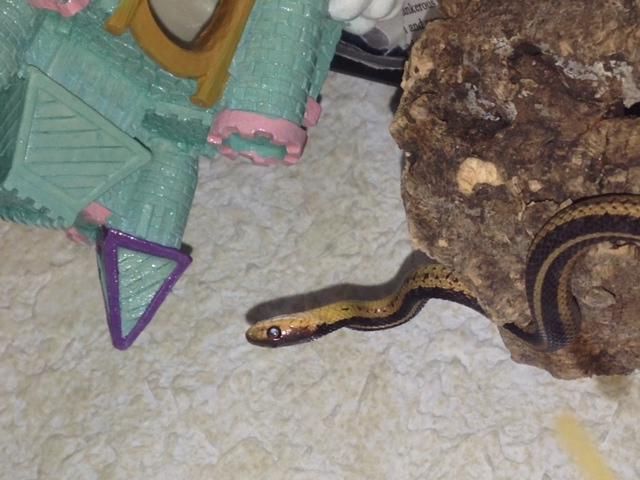 [Um, and besides, even fetal mice are too big for Kyle to eat at this point, so that involves a whole sort of yucky process of slicing them up while frozen and then thawing the bits. Ew. Not saying I won't do it, but since he has NO interest in the mice so far, I figure we'll stick with worms until we have a sort of feeding schedule in place.]
In the picture above, the close-up of Kyle looking at the castle, his eyes look milky (a sign of impending shed) but it's actually just the camera flash.
In the wild, Kyle would eat mostly frogs, toads, worms, and minnows, FYI.
So far, Kyle ate one worm after being with us for five days, and then two worms after five more days. This is progress. It means he's getting comfortable enough here to eat, which means he probably won't starve to death over the winter, and I probably won't have to brumate him... although, if he goes two weeks without eating anything, I CAN brumate (force him to hibernate) him in a cooler part of the house. Like the basement. But this all would require a complicated attempt at temperature control, and so long as we keep the house above 50* F, (which we certainly will!) there's no reason he HAS to hibernate.
I'm learning a lot about snakes. And I'm learning a lot about this particular snake.
We in the household have made an agreement that if Kyle is in one of his "hides" - the log or the castle - we won't force him out for our own entertainment. We want him to feel settled and safe in his new home. And I don't know if this will surprise you or not, but for a limbless creature, Kyle has an astonishing ability to communicate through body language.
As a wild snake, Kyle doesn't really like to be picked up - I'm sure hands grabbing at him makes him feel a lot like prey. Garter snakes have good vision, so my hand probably seems like a huge and hungry bird coming out of the sky to grab and eat him. But there are times when Kyle is curious, and even though he doesn't really want to be picked up, he won't dash into a hiding place to avoid it. In fact, if he's "climbing" the terrarium wall, he doesn't work all that hard to avoid me. And sometimes even if he IS zooming around the terrarium trying not to be picked up, he still doesn't hide. I read him at these times as, "Aw, man, really? You're going to pick me up?" and when I do pick him up, he stays pretty calm and investigates my shirt, my face, my hair, and if I go stand in a sunny part of the house, he'll lay along my arm and bask.
But there are times when he CLEARLY doesn't want to be picked up, even if he doesn't hide. He coils himself small, with his head right in the center, and there's a... tension about him that's a much louder kind of "no." And I respect that.
And... after he eats, he has a certain kind of attitude.... he's all proud and like, "I'm a snake, I found a thing and I swallowed it WHOLE. Oh yeah. I'm a snakey snake." And he tends to stretch waaaaaay upright, not leaning on anything, and he wags his tail, and OMG, once again, CUTE.
(And yeah, I'm aware that if I mess with him after eating there's a good possibility he'll throw up worms on me. Ugh. We're so not having that).
So that's the story of Kyle. And if I don't make 50,000 words for Nanowrimo this month (it's not looking good) I'm going to blame Kyle. Because... that's convenient and he's not going to tell you otherwise (grin).
Have a great Thanksgiving, Darlings, and a wonderful safe weekend!
~SM