Forgive me, darlings, for I have been remiss. It's been two weeks since my last post. I think. Maybe three?
Ah well. Consider it a moment of silence in honor of Jazz.
A couple of big exciting things going on around here lately, one of which was that the first book of my dungeon series, Above the Dungeon, went free on Smashwords, and then Amazon. It got lots of downloads from Amazon, enough that it was NUMBER ONE in the categtory of free-literature and fiction-erotica-gay for SEVERAL DAYS! This is astonishing. And wonderful. And made me very, very happy. I took pictures of the computer screen and everything.

In one week, there were over 1200 downloads of Above the Dungeon, and 100 pay sales of Out of the Dungeon and Three in the Dungeon.

This is just… wow.
And by that, I mean… wow!
Thank you, readers. I am honored. And tickled beyond belief.
I am loving this, particularly as my books aren't for everyone, as they are not necessarily happy-go-lucky or happily-ever-after books. (They do tend to end with happy for now, though, or at the very least, hope for a happy future. I mean, it's not like I kill anyone. Usually).
I like to think that my books are MORE than the average. Meatier. Grittier. Kind of Dark, perhaps too much so for the general m/m audience (which, as far as I can tell, is mostly straight females, lol).
I'm working on the 4th book of the Dungeon series now, Dare in the Dungeon. So far it's a lot of Dare and Zach and Thomas. And a fair good amount of Vanessa and Lena and Alexander.
I figure I can just about piss everyone off with this one. We have m/m/m ménage, and then f/m/f ménage, and there will probably be a visit with Roman and Jeff at some point, and Jason, which makes for another m/m/m ménage. I guess I like groups of three these days. And then if Dare and Zach actually do go visit Roman and Jeff, there's some potential for m/m/m + m/m + f. Hot damn and syrup for my pancakes (my new favorite phrase), that's damn near a village.
Well. Sometimes it takes a village.
Next really cool thing…
My friend and author of Allie's War "my favorite series of my whole life" JC Andrijeski, is putting her Allie's War series out in little bite-sized episodes. This is such a brilliant idea that I can't even stand it. And her new covers are fancy like agates, so I created a widget to show them off and class up this place a little bit. (Grin). It's at the bottom of this page. And you guys really should read Allie's War – I can't imagine you wouldn't like something that I love so much.
And NEXT really cool thing..
. my other favorite writer, 19, released this beautiful story that I'm not even going to try to explain. It's lovely. It's beautiful. And it hurts in the best possible way. Don't miss it! I want to say that everyone has to has to HAS TO read this, but on the other hand, I'm not sure I want to be responsible for that much havoc.
Last but certainly not least….
New puppy!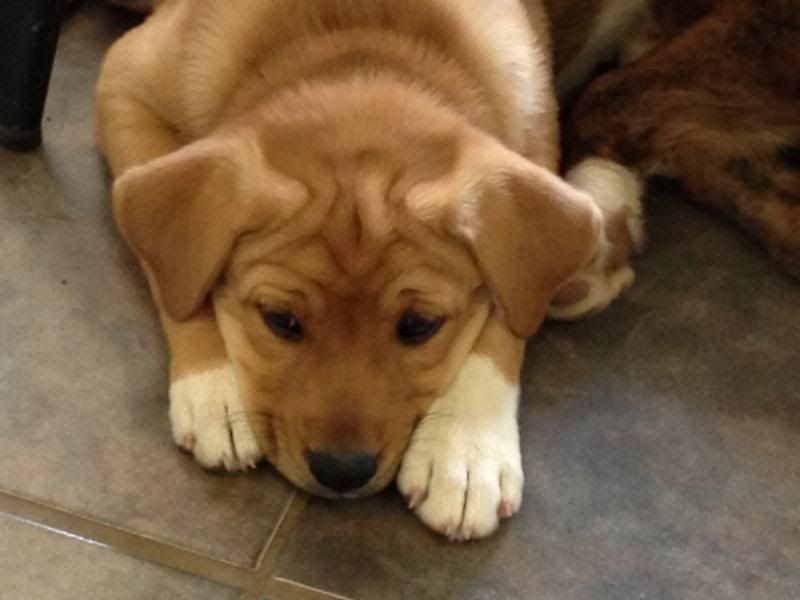 Her name is Quinn. And OMG, the CUTE! I mean, this is one of the most perfectly beautiful puppies I have ever seen, and so far she seems incredibly sweet-natured as well. Win.
Don't believe me?
Look!
And definitely look at the picture Sprite took, with this whole amazing beam of light thing going on. A part of me wants to think this is Jazzy, passing the torch. "All right, Quinn, I watched over and protected her for her first 10.5 years, and now it's your turn. Make me proud."
Little Quinn has big paw prints to fill, but since she's boxer mixed with a St. Bernard, we're pretty sure she'll have paws big enough for the task.


Welcome Quinn! (Happy Puppy Day!)